I was crying a few days after the start of the community quarantine because my desserts business had to stop before I could even reach break-even. But later on, things went to a different direction, and it isn't that bad anymore, thanks to people I was able to rely on and to the fact that my business is based online.
Gathering resources to temporarily run the business at home
The Luzon community quarantine was announced exactly on my birthday. Celebrations were cancelled, and with a sigh, I decided that it was a good time to stay at home and take a break from everything.
But then, during quarantine, I began receiving a huge amount of inquiries about the delivery of cakes and other baked goods. I didn't have any of my baking tools at home — my oven, baking pans, hand mixer, packaging, ingredients… they were all in the unit I'm renting for baking. Worse, the rent can't be waived because my landlady also needs money for her own family.
I felt so frustrated when 2 of my acquaintances from my previous job asked me if I could make a cake for their family events, but I had to refuse because I couldn't provide anything.
My husband has a Quarantine Pass so he offered to try to go to my bake space to fetch my stuff. It's a long walking distance away from home, but it's in the same Barangay. Thankfully, he was able to fetch everything I need to be able to provide my customers basic products: cookies and cakes, without being questioned by officials along the way.
Initially, my ingredients and packaging items from the bake space weren't enough, but I was lucky to be able to contact some suppliers of baking ingredients (All About Baking) and packaging items (RM Boxes). Their responses took a while, as expected due to the quarantine period's demands, but I got what I ordered after a couple of days.
I requested from my husband that I use a corner of our small home for my bulky ingredients and tools, and a huge portion of our standard sized fridge for my butter, cream cheese, and cakes. It really helped to have a kind husband! 🙏
With the materials fetched from the bake space, and a small convection-only oven (it bakes at a much higher temperature so I adjusted my baking times and techniques) at home, I got back to business! Before the quarantine, I was used to taking orders online and dispatching deliveries through 3rd party couriers, I had to make only minor adjustments to my process. For now, I only deliver once a week, and dispatch items in 1 go to avoid leaving home, lest I catch and spread the virus.
My quarantine products
Cakes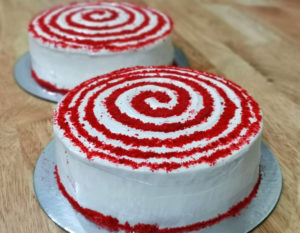 Cakes have a high demand these days because people can't visit their go-to bakeshops when they have a celebration at home. Due to the lack of space at home, I'm only able to make 2 cakes available for delivery every Sunday, with limited flavor options. But I am happy to be able to provide as little as this.
Cookies PH
About 4 years ago I was thinking to myself, what if I had an online cookie store with the domain name "cookies.ph" so that people would easily remember my website URL? That idea did not come to life until the COVID-19 quarantine period.
I bought the domain name, quickly built my website using WordPress, along with its Instagram and Facebook pages. I named this cookie business Cookies PH.
Orders came pouring in; I actually get more orders these days compared to pre-quarantine period. That's because the demand for food delivery has gone up since quarantine started.
I had many cookie products for sale here at Catzie's Cakery, but the cookie recipe for Cookies PH is different. It has a more fragrant dough, more generous cookie mix-ins, and baked in bigger, fatter sizes. I usually call the cookies at Cookies PH "big, fat cookies". One of my frequent customers loves the dough so much, and describes them as "crunchy outside, soft inside".
My husband says they are the best cookies I've baked EVER, so there's a possibility that I would take most, if not all, cookie products off the Catzie's Cakery menu, and sell only Cookies PH cookies. We'll see.
Follow our online cookie shop: Cookies PH on Instagram / Cookies PH on Facebook.
Happily serving people
I planned to do nothing during the quarantine, but due to the demand for cakes and cookies, here I am, giving my all to my job and feeling fulfilled because I am able to reach people who appreciate my creations.
To those acquaintances who needed cakes but I had to refuse, I'd like to say sorry again, but at the same time I'd like to thank you. The frustration from not being able to provide you cakes allowed me to gather the resources to make cakes again.
To people who will need cakes from now on, as long as my delivery sched works for your needs, I'll be happy to deliver cakes to you.
To people who have been ordering from Cookies PH weekly, I hope it remains as your favorite cookies even after we get through the virus outbreak!
One of the challenges at this time is booking a courier to deliver my cookies and cakes. It's hard to book someone from GrabExpress, but even if I book one there's no guarantee of a compartment in the motorbike for my cakes. My former go-to courier, Lalamove, doesn't assign any driver to me anymore. I topped up my wallet for the quarantine period but I'm not able to use it anyway. My new go-to courier is Happy Move! That's the service where I always eventually get someone to deliver goods for me. Their app still need a little more work, which is understandable because they're one of the new on-demand courier services, but the quality of service is at par, if not greater, with Lalamove.
I'm happily serving during quarantine, thanks to customers who choose us, to my husband, to All About Baking, to RM Boxes, and to Happy Move. Cheers!